1. Get in the zone
Finding it hard to even take a deep breath because of your nerves? It's normal, but the best thing you can do in this moment is to not think about it at all. Sounds simple, but with so much talk of positive thinking, in this case not thinking about what you're doing might help you more. If you're relaxed and 'in the zone', your brain is in a state of not thinking about passing or failing, you're simply enjoying the activity and letting go of counterproductive thoughts. So, instead of wondering how you are going to make sure you pass your test, think instead of ways that you can relax before you get behind the wheel.
2. Keep it to yourself
The prospect of getting your driving licence is exciting and you'll be tempted to tell everyone ahead of your test date. The problem is that when test day comes, you've already added extra pressure to yourself which can cause you to worry about everyone you'll have to tell if you get a disappointing result. Keep additional pressure off by keeping quiet and sharing the good news with everyone once you pass the test!
3. Be practical and prepared
Once you've worked out how to mentally prepare, make sure you're physically prepared with all the right documents. Take enough time before your test date to gather your documents and arrive at the test centre early so you don't feel flustered, adding more stress to the day. Make sure you bring the following:
Your theory pass test certificate or confirmation
Your appointment letter
Both parts of your photo card driving license
Your glasses or contact lenses (if needed)
If you plan to use your own car, make sure it's licensed and that it has the right motor insurance . It must meet all legal requirements and be ready and safe to drive. In addition, make sure it meets the following standards:
No warning lights are on
There is an interior mirror for the examiner
The L-plates are clearly visible
The speedometer is working and measures miles and kilometres per hour
There are head restraints and working seatbelts in all seats
The car has rear seats
The car is capable of going at least 62.5 mph (100 km/h)
Ensuring your car is in good working order without defects means there's no risk that the examiner will cancel the test because of the car, which they have the right to do. To avoid any disappointment, call or check the test centre website before your test day to make sure you've covered their full list of requirements.
4. Know how the test is going to go
It's a good idea to have a driving lesson a day or two before your test so you can ask your instructor any last-minute questions. The practical driving test includes an eyesight check and vehicle safety questions. It will last about 40 minutes. The test will also include:
A 'show me' and a 'tell me' vehicle safety question
A section with a reversing exercise
An emergency stop exercise
Independent driving, where the examiner will stop giving you step-by-step instructions and show you a diagram of where you're going. You'll have to get there following traffic signs and/or a series of directions.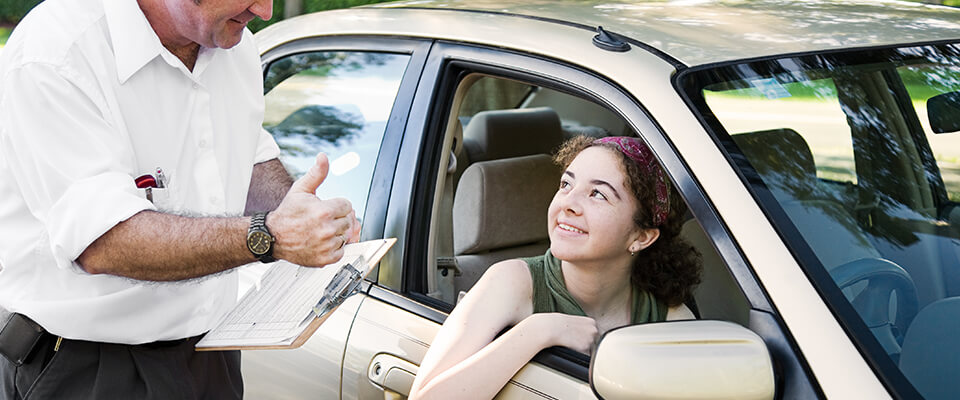 5. Fake it 'til you make it
Another way to take the pressure off is to trick your brain. Pretend it's a mock test or a lesson, like many you've already had. Remember, you've done this before and you know how to drive safely: there's nothing new in what you're being asked to do, so there's no need to panic. Pretending the test is mock might help lessen your performance anxiety that can lead to mistakes. So take a deep breath and drive like no one is watching.
Remember, it's just a test. If you make a mistake, keep calm and continue driving. There's no rush to get through it, so take your time, think about what the examiner is asking you to do, and do it. You've done this before and you can do it again.