Are you a parent who's confused about car seats? Join the club! Despite the glut of information surrounding the topic, few people seem to know for sure what are the rules around them. These are the seats that will ferry your precious cargo for years to come, so you need to know that they're safe.
The car seat connundrum begins the day your child is born. In Northern Ireland, all children under 4'4" in height, or up to 12 years old, must have a restraint that's suitable for their height and weight.
Many parents think their child's age determines what kind of seat they need. Although age is indeed a factor, height and size are more important. European 'i-Size' legislation provides that a car seat must be chosen using a weight and height chart. This legislation aims to make car seats installed with Isofix safer, and applies to car seats for children from birth to approximately 4 years.
Isofix is a child car seat attachment system that uses metal anchor points built into the chassis of the car. It is designed to make installing a car seat quick and easy. If you have a car with Isofix, look for a seat that's compatible with it.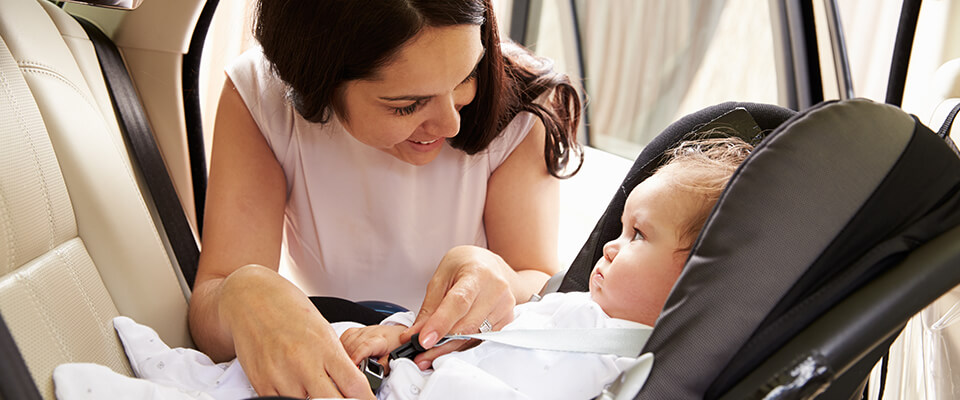 Seat Groups
Child seats are categorised in four main groups according to weight. Some seats are designed to adapt as the child grows, so they might overlap from one group to another. The groups are as follows:
Group 0 - birth to 1 stone, 8 lb – baby seats
Group 0+ - birth to 2 stone – baby seats
Group 1 - 1 stone, 5 lb to 2 stone, 13 lb – babies and toddlers
Group 1,2,3 – 1 stone, 5 lb to 5 stone, 9 lb – babies, toddlers, smaller children and older children
Group 2 – 2 stone, 5 lb to 3 stone, 13 lb – smaller children and older children
Group 2,3 – 2 stone, 5 lb to 5 stone, 9 lb – smaller children and older children
Group 3 – 3 stone, 6 lb to 5 stone, 9 lb – older children over 4'1" in height can use a booster cushion
Newborns
Up to the age of 15 months, you should put your baby into a rear-facing seat. It is illegal to put them in the front passenger seat if you have an airbag, because it can injure the baby in a crash. You can use the front seat if you disconnect the airbag – but get into the habit of sticking to the back seat instead. It's safer.
Rear-Facing Seats
When it comes to protecting your child's neck, back and spine, rear-facing seats are better than front-facing ones, according to a study from Volvo. The good news is, you can have rear-facing seats for your child up to a weight of 3 stone, 9 lb - which they should be at around 7 or 8 years old. Don't worry about leg room; children can sit cross-legged comfortably in a rear-facing seat.
Forward-Facing Seats
Forward-facing seats come in two types. The first is for younger children and has its own harness. The second type is for older children and uses the car seat belt to tie them in. Fit these car seats in the back seat – or in the front if you're satisfied there's no airbag.
Fitting seats
If you plan to leave your car seat in the car, buy it from a retailer who will fit it for you. If you intend to haul it in and out of the car, learn how to fit it yourself. Ask the retailer nicely, and they will fit it first, before showing you how to do it like an old hand.
If you have a car with Isofix, look for the connectors on the child seat - and the connectors in the rear of your car. Red and green indicators show whether or not the seat is connected properly. If the red indicator is showing, the seat isn't correctly fitted, so take it out and start again.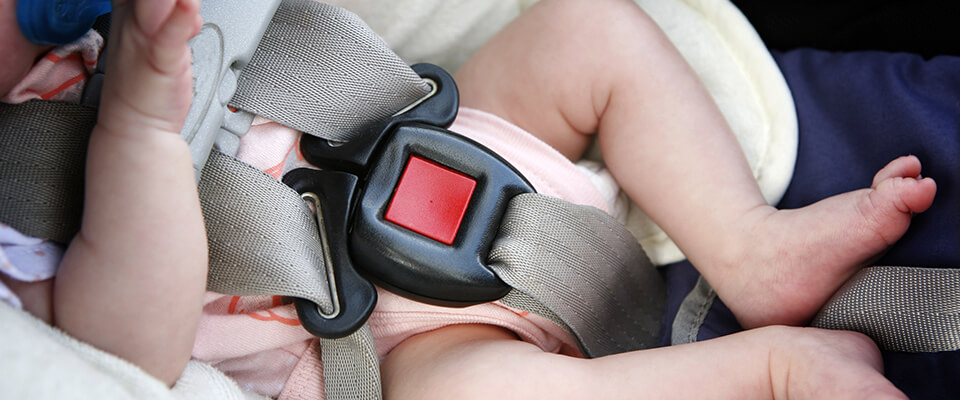 Cars without Isofix system
If you don't have the Isofix system, use the car's seatbelt to secure the seat in place. The instructions should show which side to fit the car seat and where to route it. Seats will have blue or red routing depending on which way the seat should be facing. Blue is rear-facing and red is forward-facing.
Thread the seat belt through the blue or the red route at the front and clip the seatbelt into the holder. Next, take the belt and thread it through the back of the seat, making sure the carrying handle is in the forward position. To check that a rear-facing seat is secure, push it hard with the back of your hand and if it stays in place, you're good to go.
To check that a forward-facing seat is fitted securely, place your knee on the seat with your full weight and pull in any slack on the seatbelt. Always make sure that the seatbelt buckle isn't resting on the car seat because it could open on impact.
If your child seat has no harness, make sure that the seat belt goes across your child's shoulder, but don't let it touch his or her neck. You can buy seatbelt clips that adjust the seat to fit the passenger correctly and prevent the belt slipping upwards towards the neck.
Putting your child into the seat
If you have a seat with a harness, make sure your child is strapped in securely. In rear-facing seats, you can check this by making sure that only two fingers fit between the top of your child's shoulders and the harness - and you can't twist them around. In a forward-facing seat, make sure that only two fingers fit between your child's breastbone and the harness, and that they can't be twisted around.
During colder months, leaving your child's coat on in the car is a problem because it creates a gap between your child and their safety harness. In a collision, the harness isn't as close to your child's body as it needs to be to allow it to properly restrain them. Remove a heavy jacket so that the harness is next to your child. Use blankets for warmth instead.
In seats without a harness, make sure the seatbelt fits properly. Double check that the child hasn't slipped the belt under their arm.
It's really not as complicated as it seems. If you're at all confused, get advice from a specialist retailer. Since some experts are more expert than others, seek out a few opinions. Before you buy, you should be satisfied that:
the car seat you get is suitable for your child's height and weight
it has been correctly fitted
you know how to fit it yourself
Knowing that your little bundle is safe and secure in their seat frees you to concentrate on the road and drive safely!
* We're well aware that you're constantly juggling life's many expenses, which is why we do our very best to offer you low cost car insurance.